Golf is an amazing sport, especially when you're playing well – but when you're not at your best it gets tough. Every golfer has those days where they leave the course wondering what went wrong.
Thankfully, there's plenty of help on hand for golfers who are struggling. Whether you're a beginner or a lifelong golfer, getting lessons from a qualified professional is a great way to help you improve.
Even the world's best players still need a golf coach, but why do so many amateurs avoid getting lessons? For some, it's because golf is already an expensive sport. Paying a coach is an investment in your game but an added cost, so how much are golf lessons?
How Much Do Golf Lessons Cost?
The cost of golf lessons varies depending on the coach's experience however, The average cost of golf lessons in the US is between $50-$60 for a 30-45 minute lesson. PGA Professionals often charge per hour and the more time you need the more expensive your lesson will be.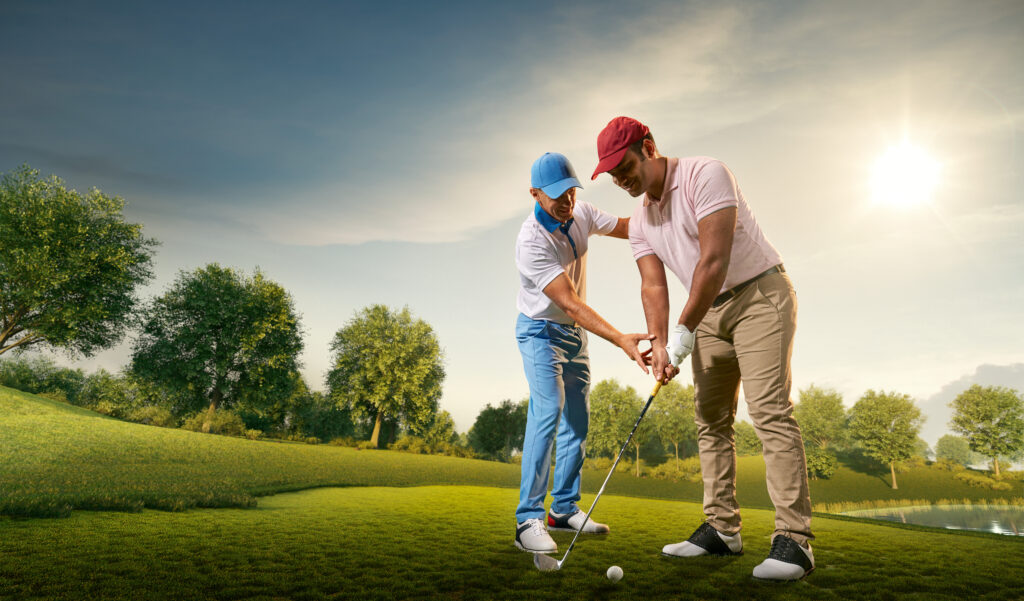 Experience of the Coach
The price of a lesson depends on a few factors, including the coach's playing experience, who they have taught, and demand for the coach. Some of the more expensive coaches have played on tour and gone on to teach the best players in the world.
For the weekend golfer, a lesson with a PGA professional is a great way to move your game in the right direction. Expect a lesson with a club pro to cost anywhere between $50-$150.
For tour pros looking for a specialist, it gets pricey. A day's worth of teaching with Dave Pelz (Phil Mickelson's short game coach) can cost $20,000. Luckily average golfers don't need a tour pros budget for regular golf lessons.
Golf Lesson Formats
If you want to learn the basics, group lessons are a good choice. The cost of the coach's time is divided between the group, making it more affordable than private lessons. The downside of this approach is the golf lessons aren't focused on you.
If you're looking for lessons that specifically target your own golf game, private lessons are key. They are more expensive than group lessons, but having the coach all to yourself can work wonders.
Private lessons with a coach allow you to identify weaknesses and work on them under the supervision of an expert. A great way to kickstart your improvement and shoot lower scores.
Another way to learn is through clinics. These are similar to group lessons in format but are led by world-class golfers or coaches. These are less hands-on, but a great way to tap into the knowledge of the world's golf gurus. Due to the reputation of the player or coach leading the clinic, they are much more expensive than regular group lessons.
Equipment
The facility and equipment used in your lesson will also be reflected in the cost. A coach who has made a large investment in equipment is likely to charge a higher rate. Think about your needs before booking a lesson. If you just want to learn the fundamentals, you probably don't need the latest technology for your lesson.
On the other hand, high-level golfers would want to see detailed data such as ball speed and launch angles. This would require a coach with the equipment and technology to capture this.
Be cautious – it's not worth paying top dollar for a coach with state of the art equipment and technology if you don't need to utilize it.
Payment
If you plan on having lessons over the long term, make sure that you ask your coach about package lessons. It's common for coaches to offer discounts such as paying for five lessons in advance and getting an extra lesson free. If you're just starting golf make sure that you are fully committed to the sport before parting with your money upfront.
Online Golf Coaching
If you're looking for flexible coaching with a dedicated professional, you might consider online coaching. This is a relatively new concept, but one that's effective and has excellent benefits.
Skillest offers online access to coaching from top PGA professionals all over the world. You can get lessons from anywhere, for a transparent price without having to travel.
Simply download the app, answer the questionnaire and you'll be paired with coaches that suit your goals. You then subscribe to a coach and get unlimited access to them.
That means no more waiting until your next lesson to ask your coach a question. You can send a message and get your answer quickly without having to wait for the next scheduled lesson.
The great thing about the subscription is you get all the benefits above and more, for a price that compares to a single face to face lesson. Who said golf lessons cost a lot? You can work on any aspect of your game from course management to swing changes under a single monthly price.
Many of the coaches on Skillest offer online coaching subscriptions for under $200 per month. If you're committed to playing better golf, why not try online coaching with Skillest by clicking here.
Are Golf Lessons Worth the Cost?
Lee Trevino said a good golf lesson is worth a thousand range balls. If you're spending time bashing balls but aren't seeing improvements, it might be time for lessons.
Plenty of golfers are happy to spend thousands of dollars on new clubs, and hope to see a dramatic improvement but never do. Ultimately it comes down to the player swinging the club. A bad swing is a bad swing – no matter what clubs you use or how many times you repeat it.
Ask yourself how much money new clubs will be, and how much are golf lessons? For half the price of a new driver, you could pay for a 2 month subscription with a world-class golf instructor on Skillest. Get started today with online golf coaching to improve your game.