Not everyone starts golfing at a young age. But not everyone starts golfing later in high school and then play professionally. Nathan Leonhardt was introduced to the game in his later teenage years, pursued a professional playing career, and eventually established the Tour Development Academy. These days, Nathan is coaching a wide range of golfers from beginners to PGA Tour players. Most recently, he helped a former NFL lineman turned actor improve his own game.
Nathan has completed over 1,000 lessons on Skillest and has an average rating of 4.99 out of 5 stars.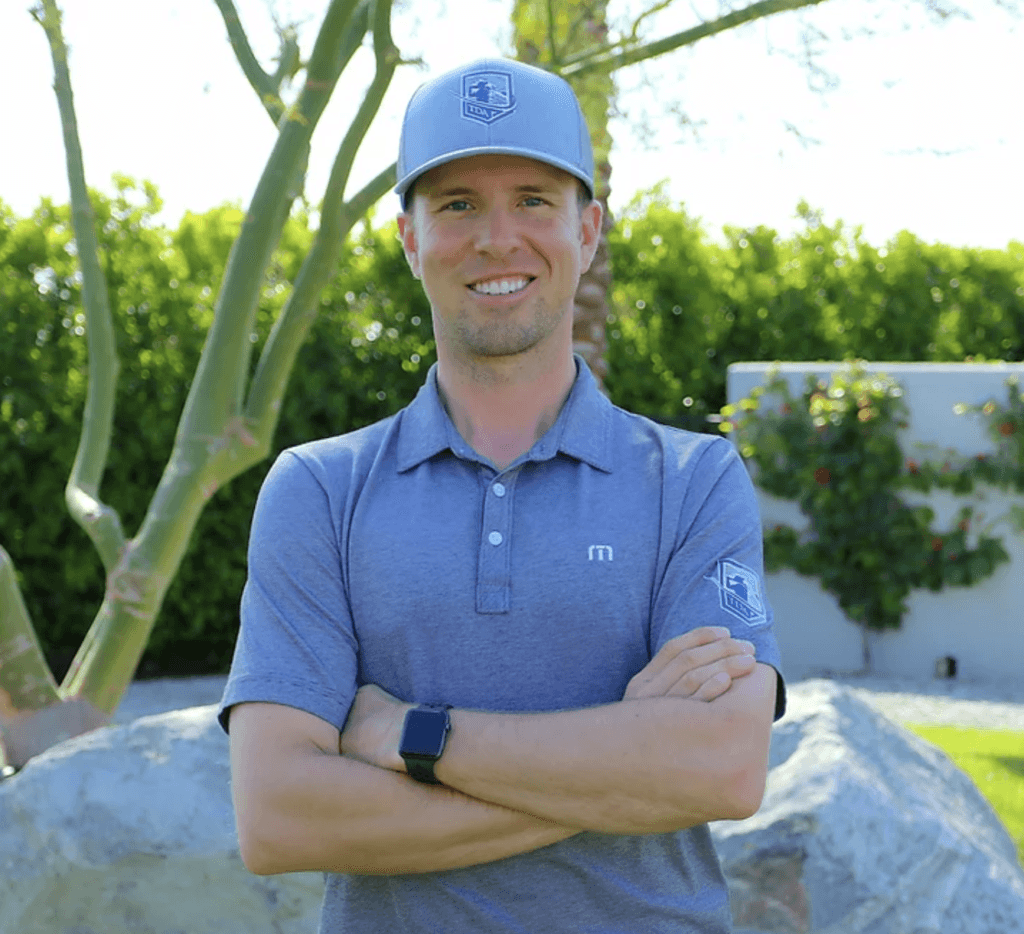 Zach Gray:
When did you start golfing?
Nathan Leonhardt:
16, quite late compared to others. I went with my parents, aunt, and uncle up to the Okanagan area. They asked if I wanted to play golf and I said no. But my dad told me to just come and I could drive the cart. So I went, and I think it was probably towards the end of the back nine, I started to hit a couple shots. I guess I made par on one of the holes and and so then everyone was impressed. And you know how we get when we think we're good at something: you think okay, I might want to try this again. So it kind of grew from that moment.
Zach:
And when did you realize you were pretty good?
Nathan:
I went all-in right away. Within about a year, I wanted to try going to college for golf. After high school, I took about a year or two off because I wasn't quite ready to play golf in college. I used that time to practice more and ended up getting a scholarship at Northwood University near Dallas. After two years of being there, I felt like I was improving but I wanted more. I contacted the Arizona State University head coach. I laugh now because here I was playing golf for maybe four years thinking that I had a chance to play for a top university. I wasn't the smartest, but at least I had ambitious dreams. So I went to the school, didn't get a chance to play for them, but did practice around there quite a lot and ended up going to Johnson and Wales University in Miami, graduating after two years.
Zach:
Did you purposely target colleges in warmer states?
Nathan:
For sure. I needed the change from Canada. Our climate in Vancouver is not terrible, but I wanted warmer for sure.
Zach:
You said you started golf late, so what other sports were you playing before then?
Nathan:
I was big into baseball and basketball. I didn't love baseball, but that was probably what I was best at. If I had a passion for it, maybe I would have went to college for it, but I just didn't. I think the individualness of golf drew me to it where I didn't have to have a team or a coach at practice every day I was there. Obviously, I needed to work on things, but I just wanted to do a lot of it on my own. Once I found golf, I knew it was for me.
Zach:
What position did you play in baseball?
Nathan:
I was a pitcher for a long time, then third base.
Zach:
Who was your golf influence?
Nathan:
Tiger Woods. I started playing golf in 2001 and graduated high school in 2003. That's like prime time Tiger days. I was addicted to Golf Channel. I chipped inside my house all the time. I don't think I broke too much in the house, but that's that's how it started.
Zach:
What did your post-college career look like?
Nathan:
After graduating from college, I immediately tired qualifying for the Canadian Tour. I went to Canadian Tour Q-School and got the very last spot to get in. I played three years on the Canadian tour, then I went to China where I played on the PGA Tour China for a year. While I was in China, my back was starting to hurt a little bit here and there. I came home and played the next year locally, but was struggling with the back pain. I saw specialists, but it never really went away. After playing professionally for about five years, I decided to take a break. Unfortunately the back pain never settled down, so I stopped playing golf. It's only until recently that my back pain has gone away.
Zach:
I've spoken to other coaches who've shared their experiences going from colder climates to warner ones and the struggles of adjusting to the conditions (Bermuda grass, etc). How was it for you going from Canada, to the southern US, and then China?
Nathan:
When I moved from Vancouver to Texas, it was the Bermuda grass. You hit a the ball in the rough, and it's just like nestling into a little bird's nest. You go to hit it like a normal chip, but you almost double hit it and it goes like three feet in front of you. Florida was was very similar to Texas, but I found Florida was more tropical. The strands of grass were super thick, whereas Texas had a lot of wispy Bermuda grass. Living down south, I was able to practice quite a bit and learned how to get around it. You learn to play different shots and you learn it real quick. It's a different game, for sure.
Zach:
How much of that do you account into your coaching?
Nathan:
It helps a lot because of those personal experiences. Instead of helping students anecdotally, I have firsthand knowledge to have them play a certain shot like this vs another way.
Zach:
Taking a step back, how did you get into coaching?
Nathan:
While I was letting my back heal, I was privileged to have this family ask if I'd be interested in coaching their two sons. I was still planning on playing the next year, but figured it would be a great opportunity to coach them over the winter and make some money. The younger son was really good. We would travel to the World Championships in Pinehurst, the IMG Junior Worlds in San Diego, world events in Florida. I was traveling all over North America with this kid and it was an amazing start to teaching golf. I was great to pass along wisdom to a young kid on how to become a high level golfer.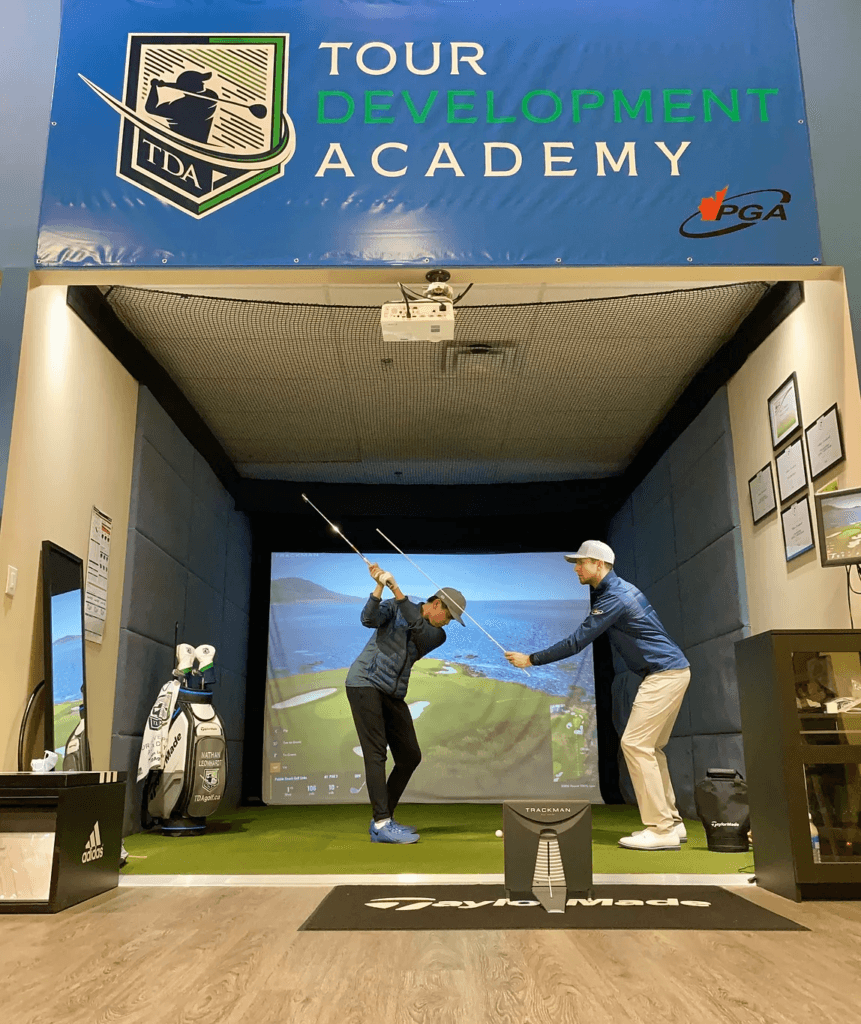 Zach:
How has your experience on Skillest been?
Nathan:
It's been awesome. It was tough in the beginning, no question about it. People never really thought much about online lessons yet. It was a thing, but not huge yet. I thought my teaching was pretty good, but how were people going to know that? Unless they saw me doing it, there's no chance people were going to book lessons without me building up a social media presence.
Zach:
Were you big in the social media before Skillest?
Nathan:
I wouldn't say I was in the beginning. I would try, but everyone tries. What I've learned is there's people out there that want everything and there's no way to get everyone. You're just going to have to have your own personality come through.
But Skillest has been amazing in helping me get more lessons to see people around the world, plus what they struggle with. For example, if an open club face is a huge problem among several students and I see that there's common causes & remedies, those lessons and teachings can help generate content. So I'll keep putting it out there and see some positive feedback. It can be a lot of work, but the more you do it, the better you get at doing it quicker.
Zach:
Speaking of content, Skillest just released its video on former NFL lineman & current Netflix star Anthony Alabi's swing transformation. How was that experience, especially with someone who's a former pro athlete?
Nathan:
Super cool. I think what made the experience so good is that he's just super down to earth. He really understands as an athlete that there's a lot that goes on behind the scenes to have your body move a different way to perform differently. It's not like we're going to stop his slice by just swinging more in-to-out. You're going to have to train different parts of your body and it takes a bunch of time. He's doing some exercises, some stretching, all these type of things, which most average golfers don't really do. But since he was a professional athlete, he knows what it takes. Just like in football, you don't just learn something and your body knows how to do it. It takes a lot of repetitive motion. For him to put in that time and being a cool guy, it has been an awesome experience.
Zach:
Time for some fun questions: If you could have a walk-up song for the 1st tee, what would it be?
Nathan:
Oh, man. There's so many from the past and present that can be good. These days I love Bad Bunny. Back in the day, something like a Gangster's Paradise.
Zach:
Which three other people would you have in your dream foursome?
Nathan:
First is Tiger, no question. I think that I would love to have seen Seve Ballesteros. I played professional golf only because I had a good short game. I was not a great ball striker. So I think seeing him up close and comparing what I thought was a good short game in my own to that of an ultimate great would be really cool. And then I guess I would really want to have played with Jack Nicklaus in his prime. In my opinion, Tiger is the greatest of all time. But I can't have that opinion unless I saw the best at the time with Jack, right? So I think it would have been really cool to see Jack in his prime as well.
Zach:
What's your favorite club in your bag?
Nathan:
Lob wedge. It doesn't matter if it's a super bump-and-run or it's a five yards straight up to the ceiling flop shot, having the ability to perform shots in between all those is just amazing.
Zach:
What's your favorite course you played on?
Nathan:
I was at Torrey Pines couple of weeks ago and it's pretty cool, but I'm going to say Whisper Rock in Scottsdale, Arizona.
Zach:
If you had a "normal job" outside of golf instruction, what do you think it would be?
Nathan:
Now that I run my own academy and my own business in-person and online, I really have enjoyed the creativity of running a business. So I don't know, some type of business coach or even some type of social media part of it. Just because I do enjoy the creativity of things in business.
Zach:
If anyone was hesitant about taking a lesson, what would you tell them?
Nathan:
You won't be disappointed. There's not too many times where someone felt like they didn't get their money's worth. If you're coming in just for a one-time lesson, you'll most likely want to subscribe for a monthly plan after that. I'm confident that I am able to show a wide variety of players their issues, why it's happening, and how to rectify them in different ways than just things you see on social media.
Zach:
Where can people follow you on social?
Nathan:
You can follow me on Twitter, Facebook, Instagram, and TikTok.