The demand for first-class golf in London, the most populated part of the United Kingdom is big. Some of the best courses and driving ranges in the UK can be found right on London's doorstep. There are a host of stunning woodland layouts within easy reach of the capital, including the famous Sunningdale, one of best 36-hole layouts in the world, and Walton Heath, the host of the 2018 British Masters, one of the European Tour's most prestigious events.
Golf and cities don't tend to go hand in hand, but just because you live in London, doesn't mean you can't keep on top of your game down at the range. The protected status of Royal Parks and the ever-expanding population means there's no space for golf courses anywhere near central London. However, hop on a train to the suburbs — or a little further — and you'll find more great golfing options than you can swing a club at including:
N1 Golf London is based in Greenwich, the venue features stunning views overlooking the Thames, especially when the city lights illuminate the river. The facility also has a superb restaurant with fine wine and dining and every bay also has a sofa and coffee table with bar service to order from the range menu.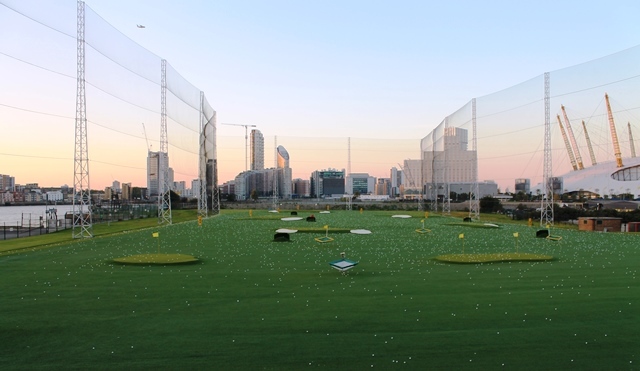 World of Golf in New Maden is one of Europe's most popular driving ranges, featuring two tiers and 60 bays – 30 of which are heated. This floodlit range provides powered tee mats, delivering each ball to the tee automatically.
Moving with the times, Urban Golf has centres in Soho, Smithfield and on Kensington High Street, players hit balls at an indoor simulator which maps the ball's trajectory on the projector in front of you.
For more options check here.
If you're looking for golf lessons from coaches that are based in London, Skillest has you covered. Remember, you don't have to be in London to learn from these world leading coaches. Just pick the coach that's perfect for you, send them a message or just get your learning underway by sending them some swings. Monthly subscriptions are the best way to get frequent feedback from a world-class coach. Skillest is more convenient, more affordable, and the best way to improve your golf game.
Check out these highly skilled and qualified coaches ready to help you in London:
Pete Lockett
Alex Clapp
Jay Kelly
Alex Buckner
James Jankowski
Jonathan Chown
Ben Barham
Giles Gill
Oli Tucker
Lee Wood
Alex Elliott
Michael Dennington
Zane Scotland
Michael Beaumont
Matt Allanson
The advantage to Skillest is that geography is no barrier so here are some other great coaches to consider around the world: